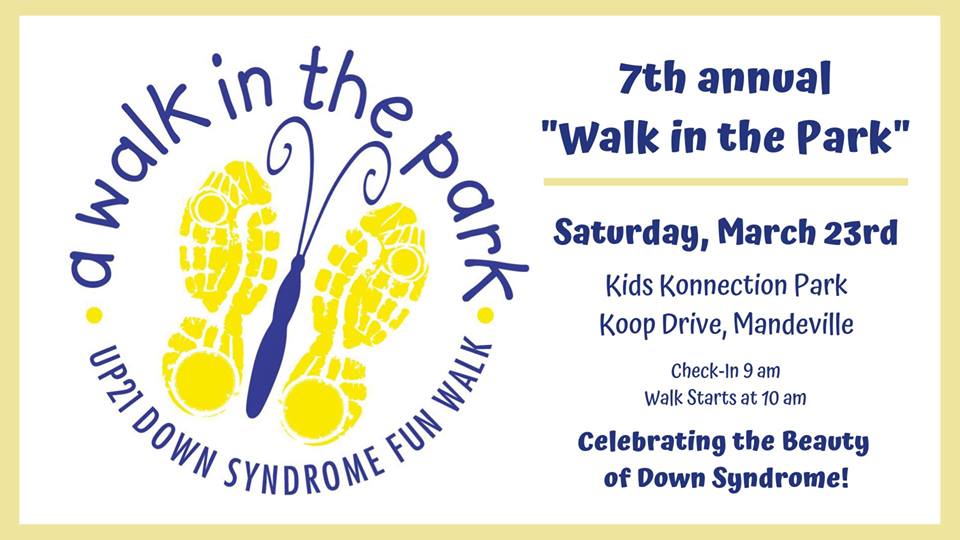 The way I see it, there are two groups of people in this world:
1) Those who have Down syndrome and the people who love them
2) Those who do not have loved ones with Down syndrome
This post is for both groups of people.
Last year, my wife, son, and I attended the 6th Annual Take a Walk in the Park. I didn't really understand exactly why, but I knew it was something we were supposed to attend. From the time that our son was born and we first connected with the UP21 Foundation, we began hearing the question, "Are you all coming to the Walk?"
Unfortunately, due to our son being fresh out of the NICU, we missed out on the Walk the first year of his life. The following year, we were out of town the weekend of the Walk. Finally, though, we made it to year #3.
Looking back on our first Walk, I see why we were always encouraged to attend. We did need to be there.
I often hear people talk about the unique connection that individuals with Down syndrome and their families have with other such individuals and their families. I once heard someone describe that connection as something like an island. We're all in this together and we get it in a way that those outside the island just do not. Until you've been there, you don't really understand exactly what it is like.
The Walk is the manifestation of that island. Dozens of people with the same diagnosis of Down syndrome come together with their loved ones to celebrate. It's a wonderful thing to get to experience. For me, it was uplifting and fun. If you or someone you love has Down syndrome, the Walk is not something you want to miss.
But aside from the unique connections those of us in the Down syndrome community share, there is another very important reason to attend the Walk. True, our family needed to be there. But not just because my son has Down syndrome. And not just because he ended up winning an iPad. Ultimately, we needed to be there because we are people. And if you are a human person, I think you should come to this year's event too.
Before my son was born, I did not have any meaningful connection to a person with Down syndrome. That's not because I did not like people with that diagnosis, but because I just did not have relationships with any such people.
And because I did not have any of those connections, I knew next to nothing about Down syndrome or the people who have it. In all honesty, to me, people with Down syndrome were nothing more than stereotypes. I operated with a lot of ignorance.
But once I found myself in this community, I discovered how relatable people with Down syndrome are. And my life has been enriched by the new relationships I have been blessed with over the last couple of years. All people need relationships with people from diverse backgrounds. This includes people from different cultural and ethnic backgrounds, as well as people with disabilities.
If you have Down syndrome or you love someone who does, I want to invite you to the Walk. It is a great time of celebration with our unique tribe.
And if you do not fit into that group, I want to invite you to the Walk as well. Set aside stereotypes and come meet unique individuals with whom you probably have more in common than you ever realized.
A great way to develop relationships with people from diverse backgrounds is to go to where they are. So, come and join us as we gather on our island on March 23 at the 7th Annual Take a Walk in the Park. I promise you that our island is a great place to be.
---
Take a Walk in the Park takes place on March 23 at Kids Konnection Park on Koop Drive in Mandeville, Louisiana. Check-in begins at 9am, and the Walk kicks off at 10am. Register at https://conta.cc/2I7mhvh today!